SEO is critical to the success of every website, but it is still a mystery to many users. We'll look at what SEO is, how it affects the website, and how to refine it to get the most out of it and stay ahead of the competition in this post.
Improving the website's Search Engine Optimization (SEO) is important for increasing web traffic, sales, and brand awareness.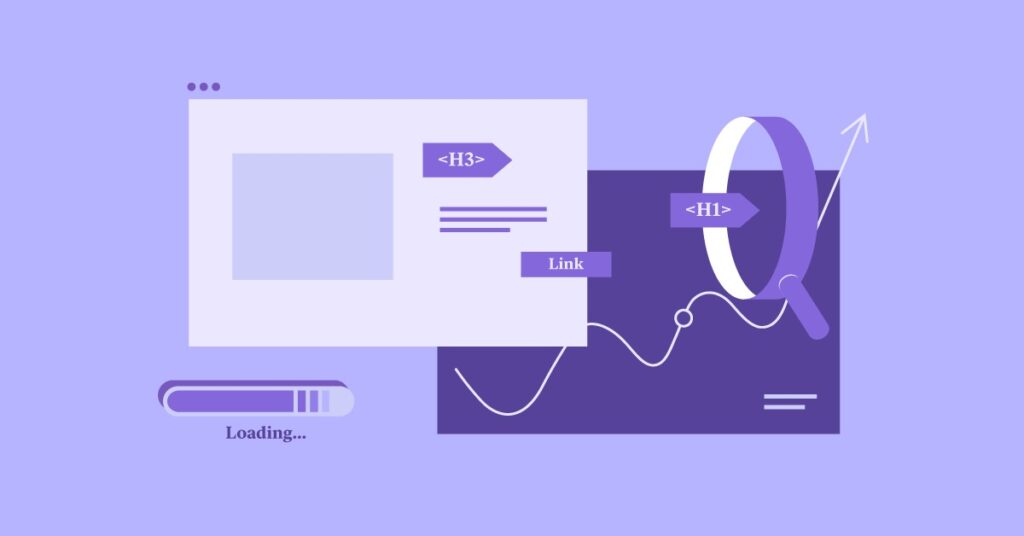 Thankfully, thanks to Elementor's integration of both the Yoast SEO and Rank Math plugins, improving the website's search engine rankings is now easier than ever. Changes and optimizations can be made directly inside the Elementor Website Builder using these two common SEO tools.
In this guide, we'll walk you through each aspect of on-page and technical SEO. Then we'll explain how to excel at SEO using Elementor and your choice of either Yoast SEO or Rank Math. Let's get started!
What is SEO?
SEO is a marketing strategy that aims to boost the website's ranking and popularity in search engines. SEO, unlike Pay-Per-Click (PPC), email marketing, and social media marketing, focuses on organic traffic.
Organic traffic includes unpaid visitors who arrive at your website via a search engine. According to enterprise SEO specialists at BrightEdge, over 53 percent of all website traffic comes from organic search.
You will dramatically increase your website's organic traffic by climbing the search engine rankings. Google's first page attracts 95% of all web traffic, and the first five organic search results account for more than two-thirds of all clicks. After investing in SEO, several websites saw an increase in traffic of up to 2600 percent. That's a benefit worth going for.
There's also proof that SEO has a much higher Return On Investment (ROI) than paid ads. According to an eye-tracking survey, 70–80% of people prefer organic search results over paid search results.
A successful SEO strategy involves a range of elements. This includes:
In this guide, we'll focus on two aspects that you can optimize using the Elementor Page Builder:
Technical SEO
On-page SEO
Technical SEO
Technical SEO is concerned with assisting search engines in crawling and indexing your website. Google will search its index for relevant pages whenever someone conducts a search. Your content will appear in the user's search results if it is considered a good fit for the question.
You will ensure that your content is indexed easily and correctly by perfecting your professional SEO. This increases the chances of your pages appearing in related searches.
Google also organizes the content in such a way that each search query is resolved as quickly as possible. The most important result is at the top of the list.
For that reason, there's evidence to suggest that climbing just one place in Google's results can increase your Click-Through Rates (CTRs) by over 53%. By perfecting your technical SEO, you can increase your chances of ranking highly in relevant search results, and earn lots of additional clicks.
Technical SEO Checklist for Elementor Users
SEO has a lot of technical aspects, but it doesn't have to be difficult. Here's a quick checklist to help you improve your website's technical SEO.
1. Outbound Links
Outbound links are links that point to another website from your own. You can help search engines understand how websites and pages are linked by building outbound links.
While outbound links do not directly enhance your SEO, they can improve your visitors' experience by assisting them in finding important, interesting content more quickly. This will help you establish a reputation as a reliable resource and can lead to repeat visitors. You might even get some backlinks from the websites to which you connect.
Any Elementor widget can be turned into an outbound connection by selecting it and then typing your desired URL into the Elementor Panel: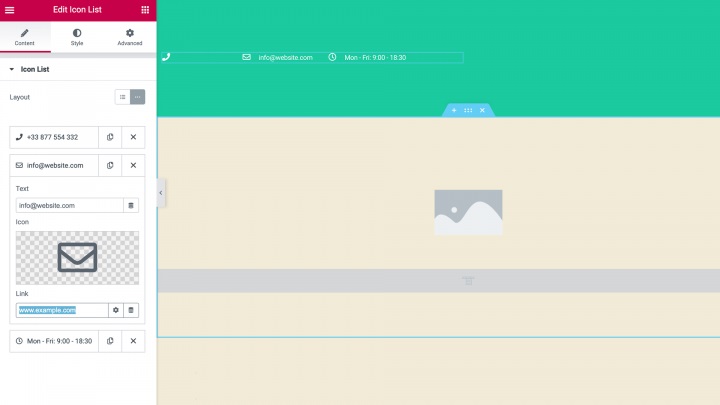 To get the most out of outbound links, it's important to point to reliable, trustworthy sources.
2. Internal Links: Existing Content
Google uses internal links to determine the importance of a web page within your site's hierarchy. In addition, internal links help users to navigate to other relevant content and sections on your website.
When creating new content, it's smart to link to your older content wherever possible. This is easy to achieve in Elementor. Whenever you're creating a URL, Elementor will automatically suggest relevant content that you can link to: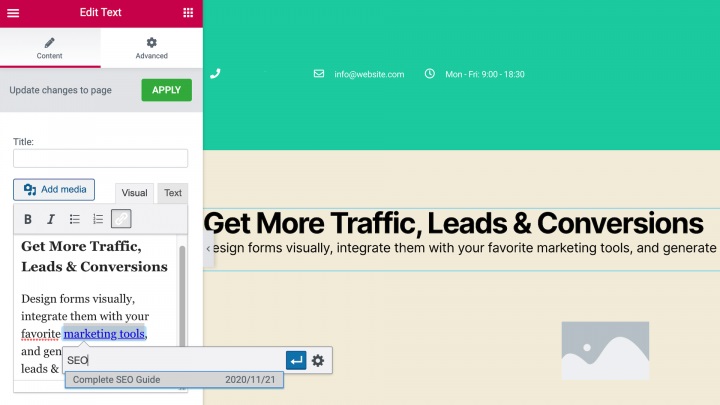 It's important to keep in mind that broken ties will hurt your SEO. As a result, after building internal links, we suggest using a method like Screaming Frog's SEO Spider to track the health of those links.
3. Internal Links: New Content
Also, don't forget to include links to your new content in your older content. Using an internal search, you can easily locate related content on your website.
If you're writing a post about the best SEO plugins for WordPress, for example, you might look for any previous content that contains the terms "search engine optimization" or "top WordPress plugins." Then, in your new article, you can connect to those sites.
4. Site Speed
Google uses page speed as a ranking factor in both its desktop and mobile search results. If you're going to rank highly, it's essential that your website performs well across all devices.
To boost your website's performance, you can follow the tips in our guide to speeding up WordPress. To test your site's performance, we'd recommend using a tool such as Pingdom, GTmetrix, or Google PageSpeed Insights: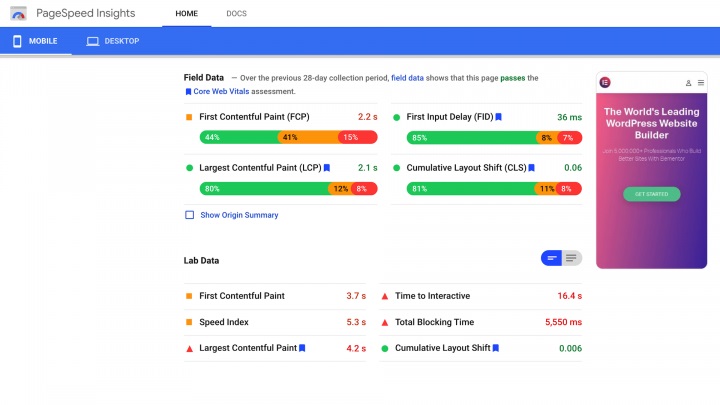 It's also a smart idea to test your website on a regular basis. This helps you identify and resolve any performance problems promptly before they damage your SEO.
5. Robots.txt
The robots.txt file on your website gives search engine crawlers instructions. You can use this file to tell the crawlers which parts of your site they should visit and which parts they should avoid.
If your robots.txt file is improperly configured, search engines will be unable to index your website. This can have a negative effect on your search engine optimization.
Using a robots.txt tester, you can ensure that search engines can see your website. If this tool finds a problem with your robots.txt file, you can use Yoast SEO to fix it. Navigate to SEO > Tools in WordPress and pick File Editor: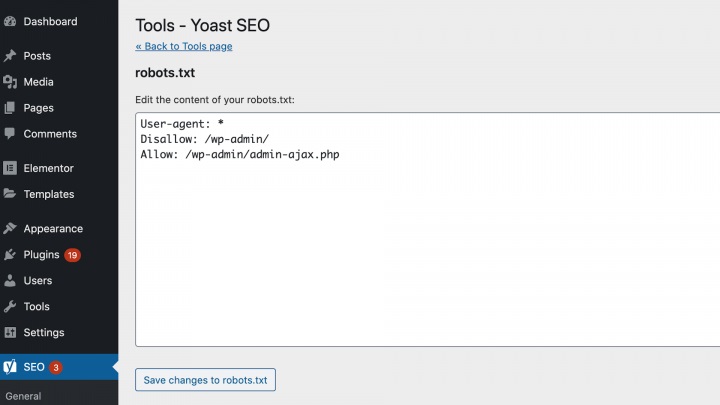 Yoast SEO will display your robots.txt file. You can now make whatever changes are needed.
If you're using Rank Math, you can access your site's robots.txt file by navigating to Rank Math > General Settings > Edit robots.txt. You can then make your edits: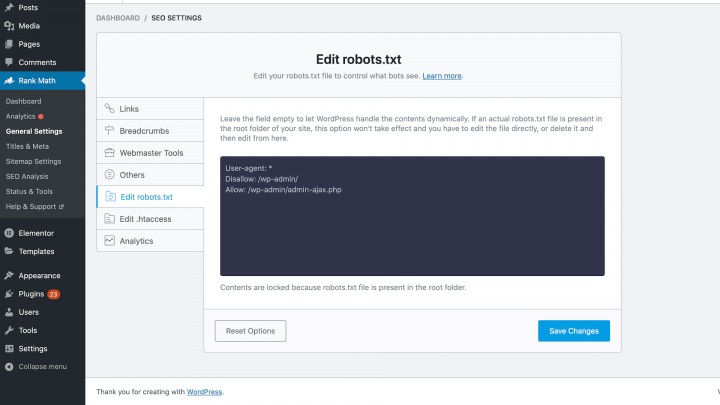 Search engine bots also arrive at your site with a pre-determined allowance for how many pages they can crawl, also known as your 'crawl budget'. You could potentially use your robots.txt file to hide sections of your website from the search engine spider. Your crawl budget can then be used for other, more important sections of your website.
What Is On-Page SEO?
Let's say you've spent a lot of time and effort creating the ideal landing page. Unfortunately, if Google is unaware of the contents of that page, it will not appear in relevant search results, no matter how good it is.
On-page SEO is all about assisting search engines in comprehending the meaning and content of each page, as well as the intent and queries it answers. These tactics increase the likelihood of your content appearing in related search engine results.
On-Page SEO Checklist for Elementor Users
We'll walk you through the process of using the Elementor platform to optimize your on-page SEO in this checklist. This process is now simpler than ever thanks to elementor's latest integrations with the famous Yoast SEO and Rank Math plugins.
1. Snippet Optimization
The 'snippet' is the text that represents each web page in search engine results. Thanks to our integrations with Yoast SEO and Rank Math, you can now craft your snippet directly inside the Elementor editor. Yoast SEO users can find the snippet editor in Elementor's left-hand menu: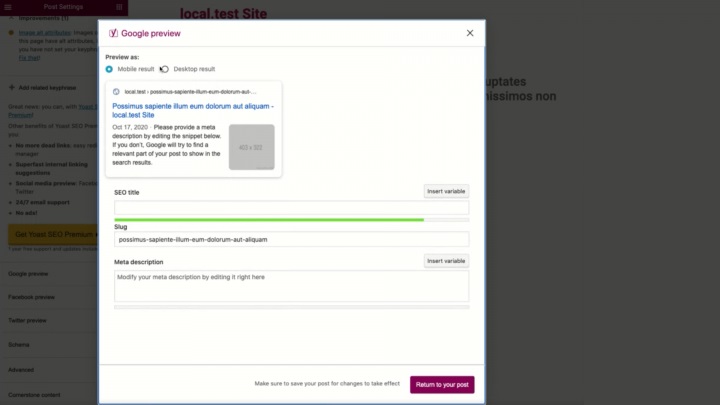 Rank Math users can customize the snippet using the SEO tab. You'll find this new tab in Elementor's left-hand menu: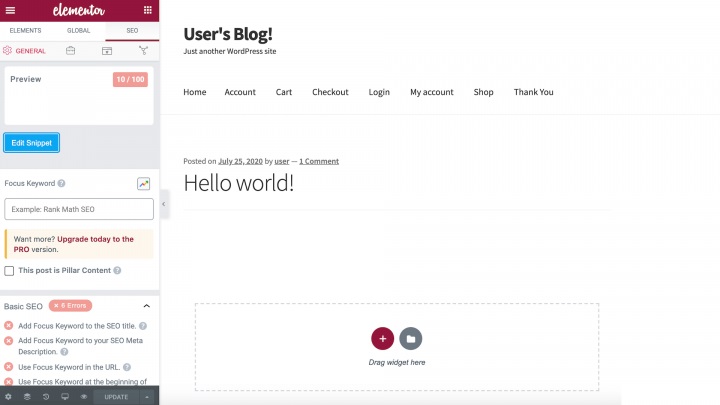 After selecting this tab, click on Edit Snippet. This launches Rank Math's snippet editor, directly in the Elementor user interface: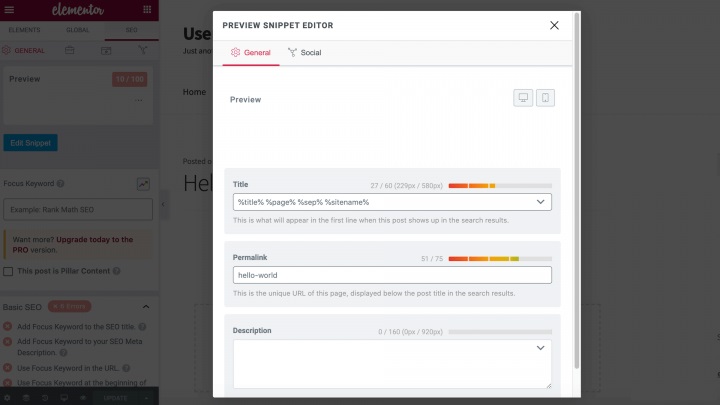 In the following sections, we'll cover all the essential elements of creating an engaging, SEO-friendly snippet.
2. The SEO Title
The heading that appears on Google search results pages is known as the SEO title, also known as the meta title. When it comes to deciding the quality of a website, Google gives this title a lot of weight.
To begin, create a title that will pique your audience's interest and entice them to click on your snippet. Make sure the title contains appropriate goal keywords.
3. The Slug Line
The slug line is the additional text that you can add to your URL. This helps search engines and humans understand your page's content. If you're using Yoast SEO or Rank Math, you can edit each page's permalink directly in the Elementor editor: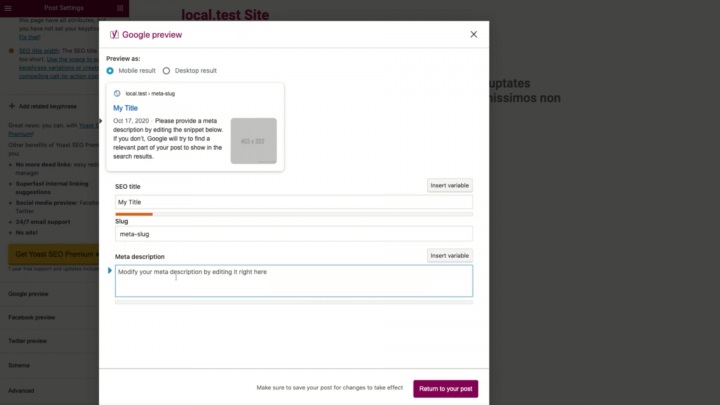 For the best results, try to keep your slug concise, and use hyphens rather than underscores to break up words. It's also preferable to avoid using capital letters, punctuation, and non-English characters in the slug.
4. The Meta Description
To encourage people to click on your link, your meta description should be informative and attention-grabbing. Wherever possible, it's a good idea to communicate the page's main takeaway, and include a clear Call To Action (CTA).
You can create a unique description for each page or post using Yoast SEO or Rank Math. If you're using Yoast SEO, you'll have the additional option to update multiple descriptions simultaneously using Yoast SEO's bulk editor. You can access this bulk editor by navigating to SEO > Tools > Bulk Editor > Description: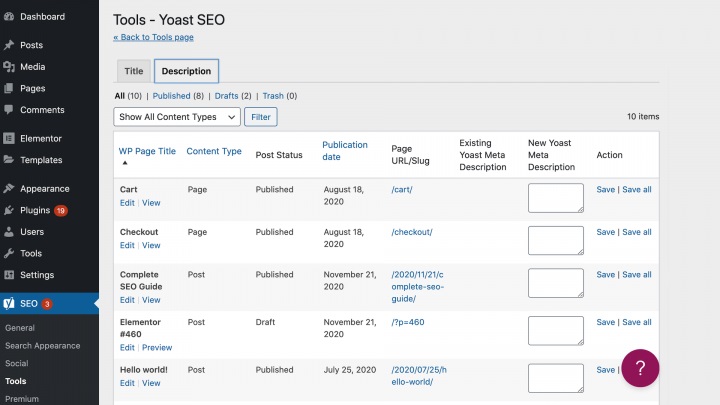 If you're using the popular WooCommerce platform, your site may contain dozens or even hundreds of product pages. To boost your e-commerce SEO, we recommend creating two separate descriptions for each product page. You could also consider A/B testing a variety of descriptions to see which one has the highest CTR.
5. Featured Snippets
A featured snippet is when a result is highlighted in a different box at the top of Google's search results. Featured snippets are designed to respond to a user's question right away and have a high click-through rate. Ranking for the featured snippet increases your organic traffic for that quest by 677 percent, according to a new survey.
You'll need to use a third-party platform because Google Search Console doesn't show any detail about featured snippets. We suggest using Ahrefs' Site Explorer to find the keywords for which you currently rank, and then using Ahrefs' filters to see only the pages where Google shows your content as a featured snippet.
There are also steps you can take to maximize your chances of earning featured snippet status. When defining a term or concept, use a question and answer format, and provide a clear and precise definition.
6. Rich Snippets
Rich snippets display extra information between the URL and the description in Google's search results. Reviews, recipes, and events often generate them. They can help your content stand out from the crowd, which can boost your CTR.
Google retrieves rich snippet information from structured data in the page's HTML. If you want to benefit from rich snippets, Elementor's star rating widget has built-in support for rich snippets and Google structured mark-up capabilities: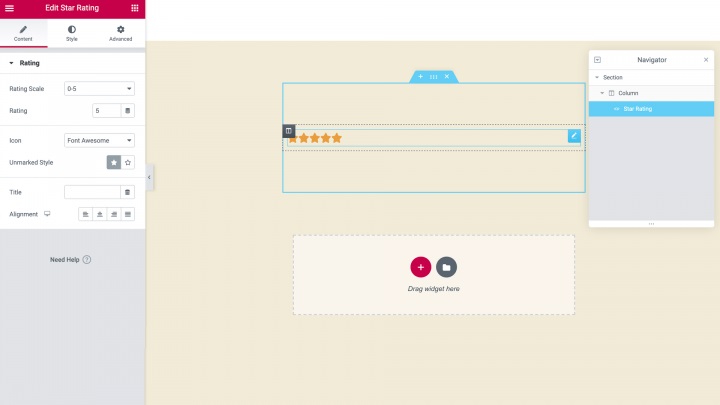 You can also create advanced pages that generate rich snippets by using our Theme Builder. Alternatively, you can use an Elementor extension that supports schema microdata.
Yoast SEO has a powerful schema structured data implementation, and will automatically apply structured data based on the information you entered when installing the plugin. You can also edit these settings for specific pages and posts, via the Elementor editor: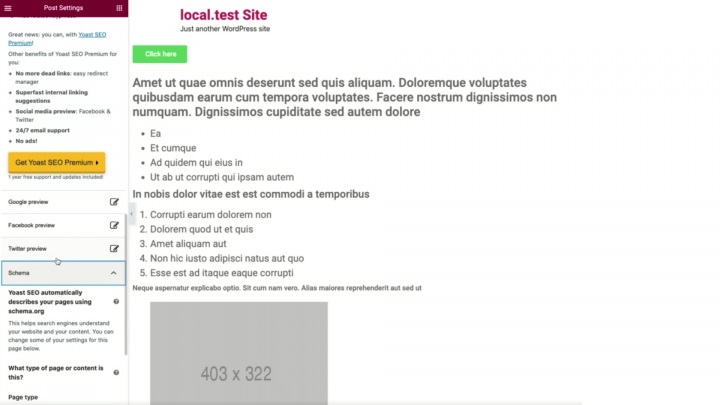 If you're using Rank Math, you may need to enable the schema module before accessing the plugin's powerful schema-editing features. To start, navigate to Rank Math > Dashboard. You can then enable the Schema (Structured Data) module, if required: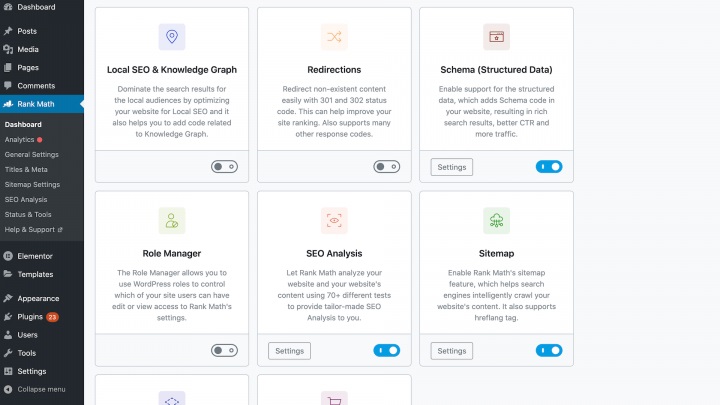 With Rank Math, you can select a default schema type that will appear across specific content types. You'll find these global schema settings by navigating to Rank Math > Titles and Meta: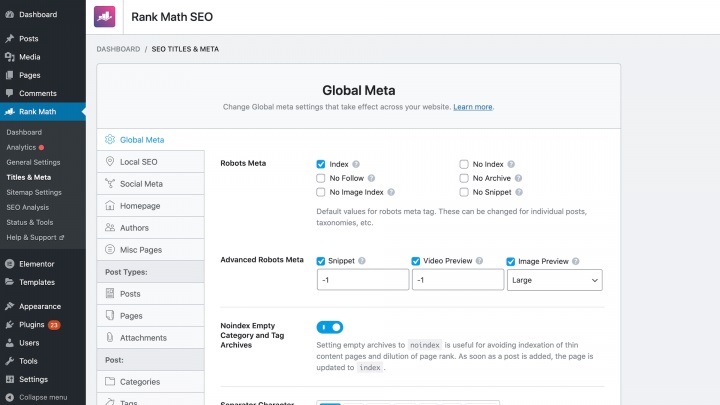 Rank Math also provides a selection of schema templates. These enable you to specify the type of content you're creating, for example: article, book, or course. You can then fill in the necessary information, in order to generate the correct schema.
Thanks to our Rank Math integration, you can apply a schema template directly from the Elementor editor. To start, navigate to SEO > Schema. You can then select Schema Generator: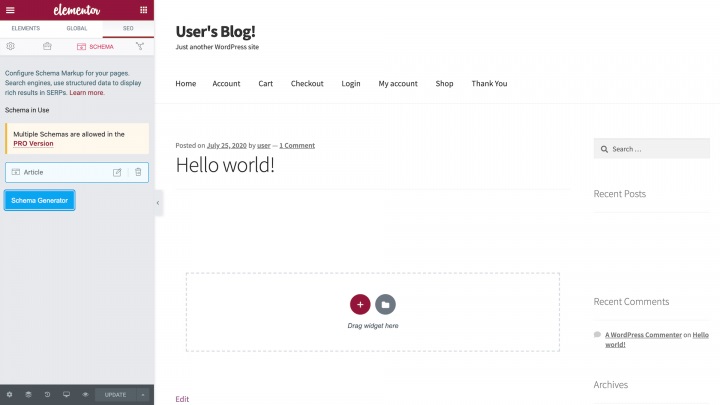 This displays a list of all the available schema templates. Make your selection, and Rank Math will prompt you to enter the necessary information: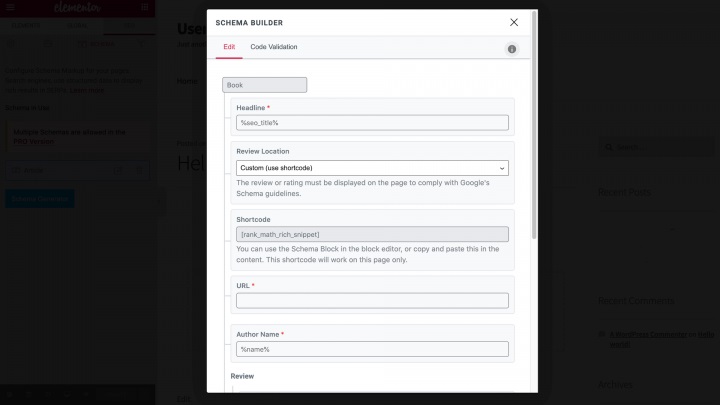 Implementing schema means that your website has a greater chance of being featured in relevant search engine results. You can find more information about schema implementation in the official Yoast SEO documentation and Rank Math's documentation.
7. Breadcrumbs
A breadcrumb is a line of text that is typically located at the top of a page. Breadcrumbs can improve the User Experience (UX) by helping visitors navigate your website. This can increase session duration and the number of pages visited, which are both important metrics for SEO. Breadcrumbs also help Google crawl your website and understand the relationship between pages.
You can create breadcrumbs using Elementor's Yoast SEO integration. In WordPress, navigate to Yoast SEO > Search Appearance > Breadcrumbs. After enabling the plugin's breadcrumbs, you'll have access to various settings that control their look and behavior: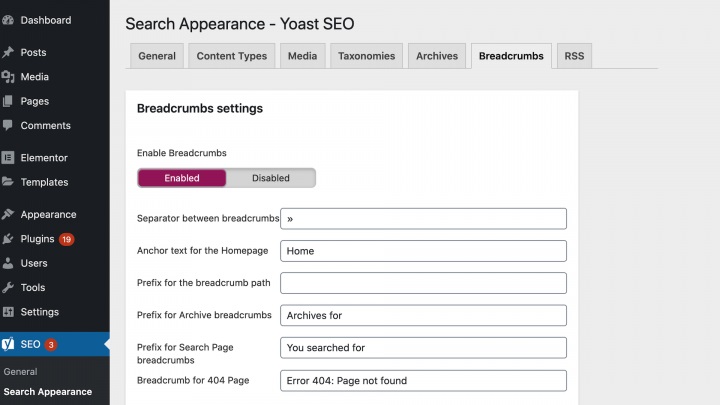 Rank Math users can also customize how their breadcrumbs appear on the page. To access these settings, navigate to Rank Math > General Settings > Breadcrumbs: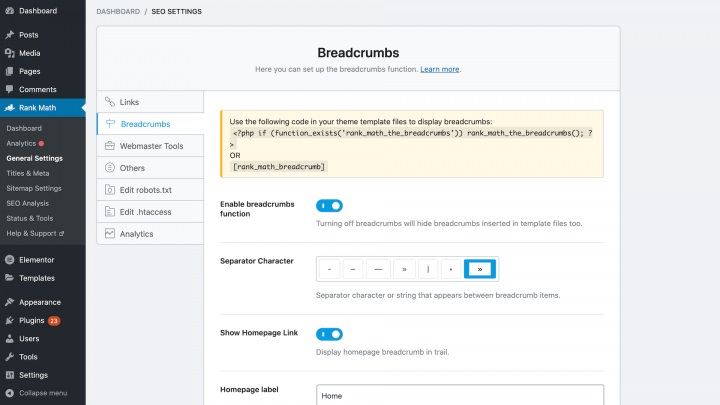 Here, you can perform tasks such as choosing a separator character for your breadcrumbs, adding an optional prefix, and specifying a breadcrumb format for your archive pages.
Yoast also provides a Breadcrumbs widget for Elementor. You'll find this option inside the Elementor editor: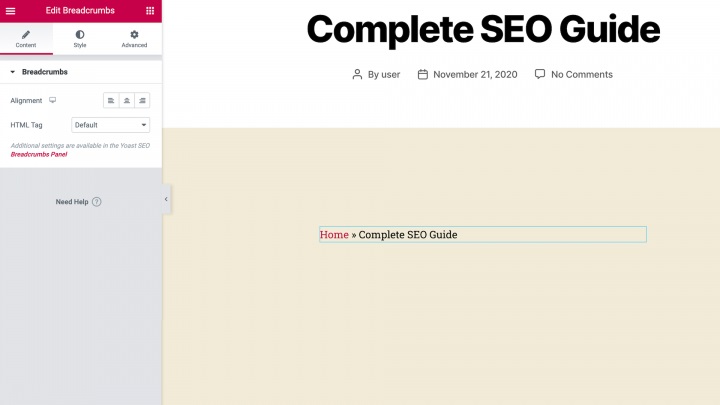 The widget makes it easy to add breadcrumbs to any page or post. Yoast SEO's Breadcrumbs widget can be particularly useful for anyone building an e-commerce store, as online shops typically have a complex hierarchy spanning multiple product categories and sub-categories. It's also a useful navigational aid for shoppers and simultaneously helps search engines understand your store's layout.
9. Content Optimization
Successful material gives the reader useful knowledge and, hopefully, aids them in solving a problem. We suggest understanding the unique problems that your target group is facing for the best performance. You're well on the way to creating a loyal audience if you create content that assists them in resolving these issues.
It can also be beneficial to study the competitors. For instance, you might use a tool like Link Explorer to find competitor content that has received a lot of backlinks. Backlinks are beneficial to SEO, so this is an indication of a well-executed content marketing strategy. You can gain valuable backlinks and improve your SEO by creating similar content.
All of your keywords, as well as any applicable synonyms, should be included in your content. You can also make it easier for search engines to grasp the content of your website by using words that are conceptually relevant. Latent Semantic Indexing (LSI) keywords are what they're called.
Keyword analysis can be done with tools like Ahrefs, KWFinder, and Keyword Explorer. SEMrush also has tools including Keyword Magic and Keyword Overview. You can set a post's keywords directly in the Elementor editor thanks to the Yoast SEO integration: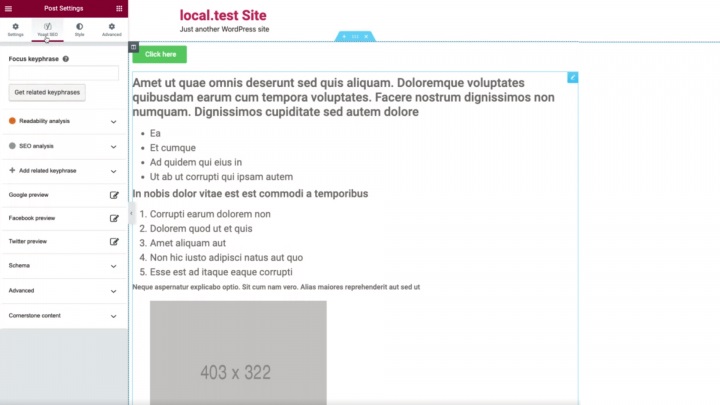 Alternately, you can set your focus keyword using our Rank Math integration. Simply select the SEO tab, and type your keyword or phrase into the Focus keyword field: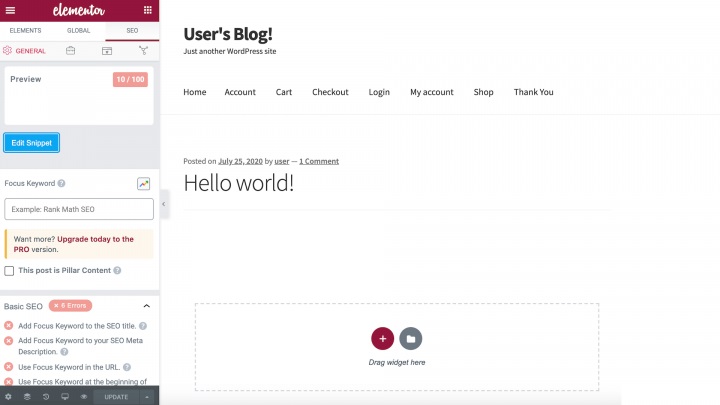 When it comes to perfecting your content, we suggest using the Hemmingway editor. This free online app highlights lengthy, complicated sentences and many other common errors. By following Hemmingway's suggestions, you can create content that's easy for search engines and humans to understand.
If you're using Yoast SEO or Rank Math, these plugins will also display suggestions for improving a post's SEO directly in the Elementor editor: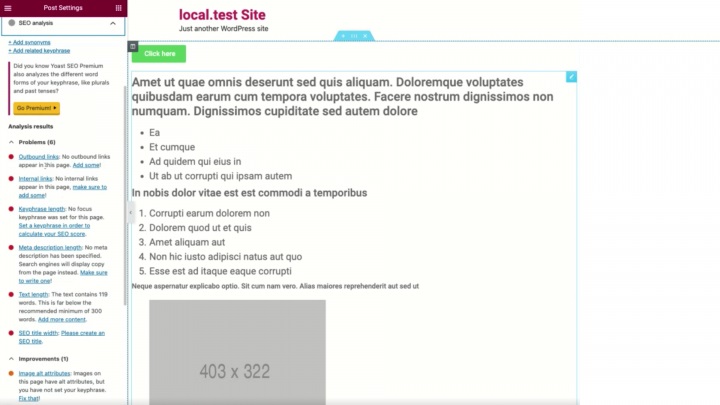 We also recommend that you check your sub-headings for a logical flow. Visitors should be able to appreciate the substance of your website only by skimming the subheadings. This will assist them in deciding whether or not they want to read the entire page.
Finally, try to include at least one appropriate CTA when it's time to publish your material. CTAs are critical for turning tourists into customers. SEO is all about driving traffic to your website.
10. Mobile Optimization
Around half of all web traffic is generated by mobile devices. This means that if you don't make your website mobile-friendly, you risk alienating more than half of your audience.
Your SEO can be affected by your mobile responsiveness. The UX of your website will be harmed if it does not view or run correctly on mobile devices. This can have an influence on a variety of significant ranking criteria, such as the length of a session and the number of pages visited.
The Responsive Mode in Elementor can be used to measure the output of your website. This is a mobile editing tool that shows you how your website will appear and function on smartphones and tablets. This tool can also be used to make your website mobile-friendly. For tablets and smartphones, this involves defining various line heights and letter spacing.
Click the little mobile icon along the bottom of the Elementor Panel to enable Responsive Mode. Then you have the option of choosing between Desktop, Tablet, or Mobile: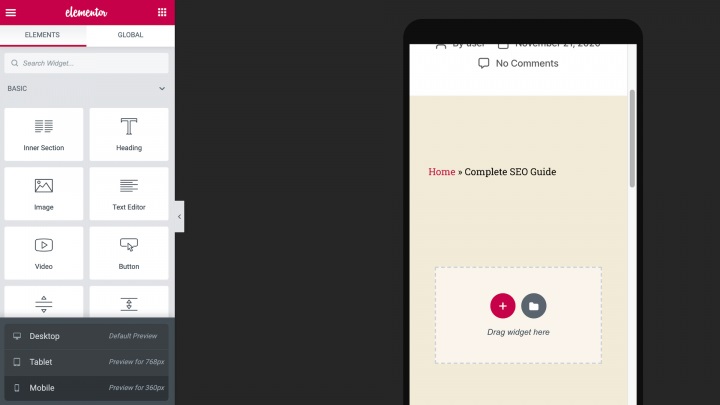 The Elementor editor will now preview how your page or post will appear on your chosen type of device. After optimizing your website, we recommend testing its performance on mobile devices using a tool such as Google PageSpeed Insights.
Improve Your SEO With Elementor
Search engine optimization (SEO) is critical for attracting visitors to your website. You will ensure that your site meets all of the search engine criteria and receives the traffic it deserves by using the tips and strategies in this post.
You can boost your technical and on-page SEO by using Elementor. You can optimize your website's SEO without leaving the Elementor editor thanks to integrations with common SEO plugins like Yoast SEO and Rank Math. Create compelling and keyword-rich meta descriptions, optimize your schema, and use breadcrumbs to help Google understand your site's content.